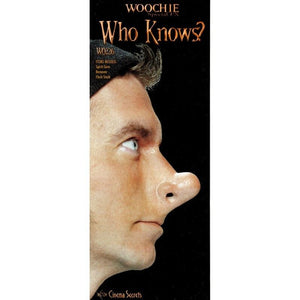 Woochie prosthetics are made of foam latex. Woochie appliances are special effect products made from the highest quality latex based product. These appliances can be painted and airbrushed to match any design. Woochie appliances are flesh toned and we recommend painting prior to adhering to the skin.
To Use: To adhere prosthetic, we recommend using and adhesive such as Spirit Gum or Pros- Aide. Apply a thin layer of spirit gum to the back of the Woochie product and along the edges. Allow 10 seconds of drying time and then press and hold on the skin.
To Remove: Gently remove with Spirit Gum Remover, or Professional Makeup Adhesive Remover. Rub a small amount of remover on the edges and allowing up to 2 minutes for spirit gum to dissolve. When removing clean glue away after each use and store flat in plastic storage bag.
Important Notes: Glue sold separately. Those with latex allergies should not use or have prosthetics applied.